Why should I join your Affiliate Scheme?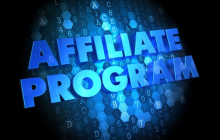 You are one of our valued customers and hopefully you feel that you have made the right decision in trusting us to look after your hosting needs. With this in mind, our Affiliate scheme is just our way of saying 'Thank You' to you for letting others know about our services.
As a member of our scheme, you are given a unique url/link to place on your website which tracks any visitors from your website that you refer to us for hosting. For each of these visitors who sign up for a hosting account by following your affiliate link, your client area is credited with &pound5 for each hosting account that they purchase. You can then use this against any future services you purchase or renew or request that we transfer this payment to your bank account.
If you are already telling others how good we are then why not get rewarded for doing so!
To join our affiliate scheme, simply log into your client area and click on 'Affiliates' from the black navigation bar, then just click the 'Activate Affiliate Account' button and you are done! Then you just need to pass your unique URL to your friends and you start getting rewarded.
You will be able to view your referrals from within our client area, as well as watching your rewards grow!
Our Affiliate Scheme Terms and conditions are available here: here