Remote Support allows us to connect to your computer over the Internet and resolve your issues quickly.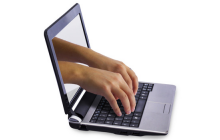 Got a problem with your computer? As long as you can connect to the internet, our technicians can quickly, easily and securely connect to your computer to diagnose and resolve your issue.
The majority of issues can be resolved in a single session such as e-mail setup on your new computer, anti-virus or malware removal, etc.
No waiting for a traditional service appointment where a technician visits your home - with our remote support service you will normally have a member of staff immediately looking at your computer.
To use this service, please call our office to set up a remote support session.
Quick and easy to use
Safe and Secure
No Software Installation Required
PC and Mac Compatible
Home &amp Business Users
Available during our office hours
Our remote support service is charged in 30 minute increments at &pound15.00+VAT