All domain name registrations are subject to the terms and conditions of the appropriate registry responsible for ultimately registering the domain.
Below are details on the terms and conditions of registration.
Registration of a .uk domain name - Nominet Terms and Conditions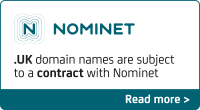 By registering a .uk domain name, you also enter into a contract of registration with Nominet UK on the following terms and conditions: Nominet terms &amp conditions.
This is a separate contract to any arrangement you may have with any third party for the provision of internet services and is in addition to our own terms and conditions of service.
Please read this before proceeding with your order.
Data Quality Policy - keeping your registration details correct and accurate
It is also a requirement that you comply with the Nominet Data Quality Policy, ensuring that your domain is registered using valid details such as Name, Company Name (where applicable) Address and Postcode and that these details are kept up to date should any of these change during your period of registration.
Should your registration details not be able to be verified within 30 days of registration, your domain name is liable to become locked.
Good Practice and Contacting your Registrar (Penguin Internet Ltd)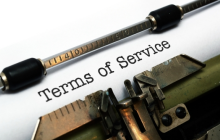 Additionally, as per Nominet's Good Practice Terms, we would like to assure you that we aim to respond promptly to any issues or complaints within 1 business day.
Please see our contact page for our various methods of contact. We recommend the use of our ticket system where any issues can be easily escalated on your request as required should they not be resolved to your satisfaction.
Should you wish to make a complaint, please initially raise a sales ticket via our client area detailing your issue so that we can address this for you. Using this system, you will be able to clearly select the product or service that you are experiencing an issue with and provide details of the nature of your complaint. A member of our sales team will initially aim to resolve your issue to your satisfaction. In the unlikely event that they cannot do so and you are not satisfied with the response, please request on the ticket that this be escalated. Under these circumstances, the matter will be escalated to our Sales Director who will be happy to assist you with the resolution of the matter.
Registration of all other domain names
All other domains name registrations are subject to the following terms & conditions which are listed and laid out here: Terms and conditions
ICANN registrant rights and responsibilities can be found here: ICANN Registrant Rights