Web Design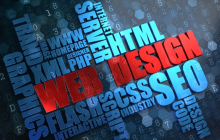 Whether you are looking for a brand new website, a revamp of an existing one or just a freshen up of parts of your website, we have a range of bespoke services that will suit your needs (without costing you the earth!)
When it comes to website design, this is something that really must be tailored to your specific goals and requirements. When you contact us, we will initially ask you to fill in a questionnaire that we have developed which enables us to gather key information on the type of look &amp feel and functionality that you are needing for your site and so we then develop the concept onwards from there.
Our Web Design services include:
Bespoke Design
A one-off design, custom written to suit your exact needs in terms of design, content and function. We design your site from scratch, ensuring that your website is unique to you. Your site can have the same design throughout or elements of this can be changed to suit the content of the page.
Custom Template Design
A custom design of a template for your website - bespoke in nature but with each page having the same look but with different content. With a templated website, it is quick and easy to make changes to common sections of your website so that the changes are instantly replicated to all pages of your website.
Template Customisation
We can customise an existing template to suit your needs in terms of colour, font, layout etc. A lower cost way of having a unique look for your site without the costs associated with custom design.
Website Updates
We can update your existing website if you want new content added or even have an existing static HTML site, we can convert this to a Content Management System such as WordPress so that you can make changes yourself!
Logo Design
Whether you require a new logo for your company or project or a refresh of your existing one, we can provide the required services. We can also reproduce logos where you do not currently have these in a digital format.
Banner Adverts
Banner Adverts can be used for posting special offers on your own site, or more commonly when advertising on a 3rd party site. We can design your banner in a specific or range of sizes and to your exact needs.
Content Management Systems
Content Management Systems allow you to make changes to your website online, as opposed to the traditional requirement of needing to use a web design package and upload your changed pages. This also allows for multiple users to make updates to your site as well.
E-Commerce Solutions
We can provide a wide range of e-commerce solutions in order to allow your business to start taking payments online. This allows your business to operate 24/7 and so increase your revenue.
PHP Custom Scripting
Our developers are able to undertake PHP development work for you no matter what the size - from a basic website contact form right through to a fully e-commerce enabled customer management website.
MySQL database development
We can provide full database design and development services from new database driven websites to updates and amendments to your existing site, including conversions to support newer versions of database servers.
Script Installation Services
If you've seen an open source or commercial script that you wish to use on your website and you are having difficulties in installing it, we can provide a script installation service to deploy this to your website and configure it to your requirements.
Further information is available on our range of design services from the navigation menu or alternatively by using our search function at the top of this page.
If you require assistance or would simply like an honest quote, please do contact us and we will be happy to discuss this with you.