IT Repairs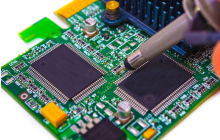 In the unfortunate event that your computer fails, our technicians and electronic engineers are able to provide repairs to all makes of personal computers and laptops, right down to a component level. Minor repairs can be carried on site for you if required so as to minimise your time without a computer. For mission critical systems we can also provide loan computers where required if the repairs require the computer to be brought back to our workshop, therefore minimising any inconvenience to yourself or your business.
We are also able to perform repairs & servicing to tablets, monitors, printers, FAX machines and the majority of PC peripherals and console gaming systems in our fully equipped electronics workshop.
Upgrades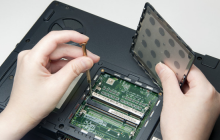 The majority of computer shops & companies will tell you that you need a complete new system when you've decided that it's time for an upgrade - we like to look at things differently though!
Although occasionally it isn't cost effective to upgrade a very old computer, the majority of systems can usually be upgraded to modern mid or high-end specification for around &pound100 - &pound200, and sometimes from as little as &pound50 - a mere fraction of the cost of buying a new computer. It may just be a case of fitting more RAM, a faster processor or a new hard disk.
If your budget is limited, we can even build you a new computer and use serviceable parts from your old one such as the DVD-ROM, hard disk, etc as these are often perfectly good and will therefore further reduce the cost of a new computer or upgrade. Each component to potentially be reused can be easily tested and a diagnosis on its suitability given beforehand so as to ensure your new system is completely reliable.
Depending on your requirements and the current specification of your system, we will assess what is needed and recommend the most cost effective solution. We also offer a free call out, consultation & estimation service to all local customers.
Data Recovery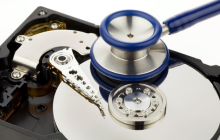 No matter how good your intentions with regards to keeping backups, we all become complacent sometimes and this is generally when the worst tends to happen, i.e. you accidentally delete a required file or your hard disk fails. In the event that this happens, Penguin are here to assist you.
Please note, in the event that you do require data recovery services, please DO NOT use the computer any further. The more use of the computer performed, the less chance you have of successfully recovering the data. The computer should be shut down and brought in for investigation.
Our in-house technicians can perform a wide variety of data recovery tasks. We are able to recover deleted files, even those emptied from your recycle bin and also those deleted from the command line. It's even possible to recover data from a drive that has been formatted.
In the event of a hardware issue such as a hard disk failure, our in-house staff are able to repair or recover data in the majority of cases. In the event that this is a more serious failure, this may require specialist data recovery hardware in order to extract your data. In this case we are able to liaise with data recovery specialists to arrange for the recovery and return of your data. Our company of choice is Seagate, who we are partnered with. Seagate are the worlds leading manufacturer of hard disks and with many years experience specialising in hard disks, they are the ideal choice to recover your data quickly and safely.