Maintenance Contracts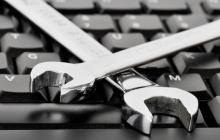 For many businesses today, IT equipment is at the core of the business, from the office computers and printers, internal networking equipment right through to telephone systems and email facilities. When something goes wrong, it is important to have the support available to get you back up and running with as little delay as possible. However, for many businesses, having a full time dedicated IT team is not practical.
That was the case until now - let Penguin Internet be your own IT department without the staffing overheads and associated costs! With our maintenance contracts, you have the dedicated IT staff offering you the support to get you back to doing what you do best - running your business.
Whether it is networking support, hardware maintenance or hardware and software installation then our expert staff are here to help you, either at your premises or from our offices via remote support.
With a range of competitively priced services, we can ensure that all of your IT support needs are covered. With support contracts from as little as &pound10 per month, you can have a technician looking at your issue in a short time with guaranteed response times from as little as 2 working hours.
We offer two types of contract, depending on your response time requirements:
Maintenance Contract Prices
Standard Support
Priority Support
All prices exclude VAT and are per PC / Laptop
Single PC / Laptop
&pound20 per month
&pound30 per month
2 - 9 PC's / Laptops
&pound15 per month
&pound25 per month
10+ PC's / Laptops
&pound10 per month
&pound20 per month
Standard Support includes:
4 working hour* guaranteed remote support response
12 working hour* guaranteed on-site support response
Priority Support includes:
2 working hour* guaranteed remote support response
6 working hour* guaranteed on-site support response
*Working hours are classed as Monday to Friday from 9.00am to 5.00pm - excluding Bank Holidays
A minimum of 3 months contract term, with monthly rolling contract thereafter